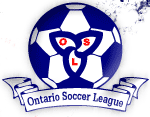 It's three wins in a row for FC Ukraine United and they are still sitting first in Provincial East Division of Ontario Soccer League with only one loss on the season. Playing man down for 60 minutes Ukrainians managed to pull a 3-2 win last night in Richmond Hill against Gold Line.
Alon Badat shined again in this game by scoring first two goals and then at the end of the game was brought down inside the box for penalty. Eugene Ishchak confidently scored from the penalty spot to give away side third straight victory.
FC Ukraine United will return to Weston Lions Stadium Sunday on August 13th as they will play Aurora Hearts. The match will kick off at 9:00 p.m.