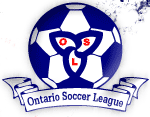 Ukraine United lost their second game of the season on Wednesday night against Toronto Irish FC at Earlscourt Stadium in Toronto. Ukrainians had an amazing opportunity to score first when Alon Badat was brought down in the box at the 5th minute of the game but Badat's penalty shot was stopped by Toronto Irish FC goalkeeper. That was the first failed penalty kick for Ukraine United in years.
The only goal in this game was scored in the middle of second of the second half by Toronto Irish FC.
Next game for our OSL team is on the road again on Thursday, August 24th against Pheonix SA at St. Joan of Arc Stadium in Maple. Kick off 9pm.