OSL UKRAINE UNITED COMES BACK FOR 2-2 TIE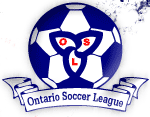 OSL Ukraine United had to come back twice to get 1 point in this game. Eugene Ishchak and Alon Badat were on the scoresheet for FCUU.  Ukrainians lost very important 2 points again in the race for the first place in OSL Provincial East Division. United still sits first in the league just 3 points ahead of HFC Toronto. 
Next game FC Ukraine United will play on Sunday, September 10th against second place team HFC Toronto at home field Weston Lions Stadium in Etobicoke. Kick off 9pm.
Please reload