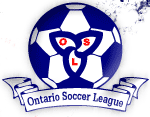 Ukrainians dropped valuable points in OSL title race after losing 0-2 at home to second place team HFC Toronto on Sunday night.
Two goals scored in the first half gave visitors HFC Toronto a 2-0 win at the whistle over hosts FC Ukraine United, and first place in the Provincial East division table. Ukrainians moved to the second place just one point behind HFC Toronto.
Next game FC Ukraine United will play on Sunday, September 17th against Durham United FA at Weston Lions Stadium, kickoff 21:00.