OSL UKRAINE UNITED OUT OF TITLE RACE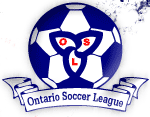 FC Ukraine United officially out of title race after a 4-4 tie with Durham United FA on Sunday night at Weston Lions Stadium. Eugene Ishchak scored a hat trick and Alon Badat added a goal for Ukrainian side. FCUU are sitting second in Provincial East Division with 2 games left to play. 
Next game FC Ukraine United will play on Sunday, September 24th at Weaton Lions Stadium against Aurora FC. Kickoff 21:00.
Please reload