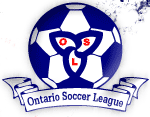 FC Ukraine United played their first game of the OSL Provincial East Division against the Downsview Rams. Ukraine United came out strong from the first minute, dominating possession and controlling the pace of play. After a number of chances, Ukraine United broke the deadlock and with a well placed header by Romario Guma.
Ukraine United continued to play strong and scored their second goal off a quick corner with a beautiful shot into the top corner by Stas Katana. In the second half Ukraine United increased the lead to 3 goals with a penalty shot by Evgeny Ishchak.
A great start to the season. Next game is this Friday June 7th at 9pm vs Aurora Hearts @ Highland Park in Aurora Ontario.
GENEROUSLY SPONSORED BY AA Floors & More, Royal York Roofing, Ltd. , Kantor Currency Exchange, KLIMAR TECHNIC http://klimartechnic.ca, AVISTA PROFESSIONAL CORPORATION avistalegal.com, FLEX-TOUCH CANADA INC. http://flextouch.ca/, OK GROUP okgroup.ca