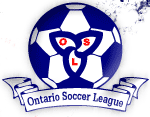 Stas Katana and Romario Guma both had a two goals and an assist each, Ihor Sorotskyi, and Volodymyr Plishka had one goal each, Andriy Sukhetskyi had two assists as Ukrainians soundly defeated GS United 6-1 in the last game of the season on Sunday afternoon at Eglinton Flats to extend their unbeaten streak to four games.
It was a short season due Covid-19 restrictions in Ontario Soccer League Provincial East Division where FC Ukraine United played only 8 games. Ukrainians finished 4th among 9 teams just 3 points behind first place team Hungaria Vasas.
ONTARIO SOCCER LEAGUE
PROVINCIAL EAST DIVISION
SUNDAY, OCTOBER 3, 2021
EGLINTON FLATS, TORONTO ONTARIO
FC UKRAINE UNITED - GS UNITED 6:1
GOALS: R.GUMA (2), S.KATANA (2), I.SOROTSKYI, V.PLISHKA
LINEUP: A.BANDRIVSKYY, A.ZASLAVSKI, I.KUCHERENKO, V.CHORNYI, V.PLISHKA, S.SAVCHENKO, N.MILISHCHUK, A.KARARAJ, E.ISHCHAK, R.PITSUR, M.ROHOVSKYI, S.VARGA, , R.KUKHARSKYY, I.SOROTSKYI, A.SUKHETSKYI, S.KATANA, A.GAPANENKO, R.GUMA, G.KRAJA, J.CORDEIRO
FC Ukraine United would like to say big thank you to all our players, fans, supporters and especially our sponsors who continuously supported us during this difficult times.
GENEROUSLY SPONSORED BY AA Floors & More, Royal York Roofing, Ltd., KLIMAR TECHNIC http://klimartechnic.ca,
Kantor Currency Exchange, OK GROUP okgroup.ca, Window Experts 416-400-7484.